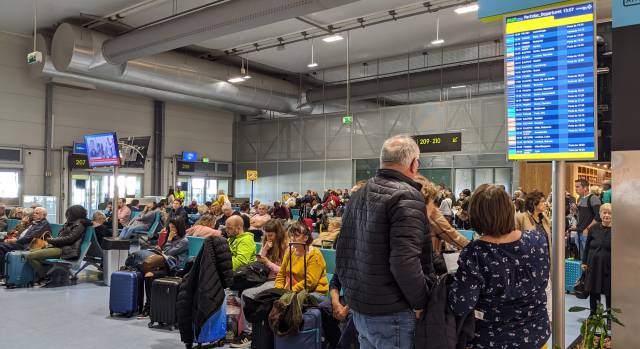 Fly without worrying about carrying the passport or ticket on top; do not wait to check in the luggage and even be able to forget about it because there is no chance of it being lost and because, when you arrive at your destination – whether it's your home or a hotel – you'll be there; don't have to go to the airport in advance; don't queue again, take out the cell phone to validate the boarding pass at different doors or interact with security agents... Although it may seem a bit futuristic, it's in the imagination of airlines and airports around the world, which focus their efforts on making it a reality,
The number of plane passengers is growing. It is expected to double over the next 20 years, according to Sergio Colella, President in Europe of SITA, a technology provider for airlines and airports around the world. It will also increase the number of flights. But not the number of airports. Nor the size of existing ones: "Geneva Airport cannot expand its infrastructure. It's between the lake, the city and the mountain." The key to managing this increase in travelers and making that imagination pursued by airports and airlines a reality, he argues, is in technology.
The air sector already incorporates it in each of its processes: from the purchase to the check in, the management of luggage, the boarding of passengers, the control of operations or the prediction of risks. In 2018 alone they spent $50 billion, according to SITA 2019 Air Transport IT Insights. The largest investment was in cloud services and cybersecurity. But in the sector it is committed to all kinds of technologies: from IoT, digital payments and computer vision to blockchain, artificial intelligence or 5G.
This investment responds to a change in user behavior. Colella makes a difference between two types of travelers: those born before the digital age and those after them. In the first category, there are people "analog and accustomed to physical interactions". In the other, those born into a digital society: "They treat travel the way they treat any other aspect of their life: through the phone.
"
An airport worker reviews software that allows you to monitor operations and make predictions. I.R.
By 2025, the number of travelers born in the digital age will double the pre-digital - 68% compared to 32%. "They don't want to buy tickets or have to talk to someone for the check in someone else to leave their luggage, to board... No waiting for queues. They want to go from point A to point B and there are no flight delays. That is, a single simplified experience in which there are not so many steps and only have the strictly necessary human interactions," he explains at The annual SITA Air Transport Summit in Lisbon and to which THE COUNTRY has been invited by the company.
Currently more than half of travellers use the technology to do the check in – via the web, their mobiles or machines at airports – according to the above-mentioned report. In addition, in 2018, 44% of passengers used automatic passport control. That is, twice as much as the previous year. For example, Milan Airport installed about 50 egates (automatic gates capable of verifying travel documents or the identity of travellers) between 2018 and 2019. It has also implemented virtual assistants. They are machines that answer 10,000 passenger queries every month, as explained by Armando Brunini, CEO of S.E.A. S.p.A., a company that is responsible for the management of the Airport of Milan.
Facial recognition has also landed at some airports. Face scanning eliminates the need to show your passport or boarding pass at different controls. This technology, which is already part of our day-to-day life and can apply a series of biases, has raised controversy in recent years among rights defense organizations. San Francisco became in May the first city in the United States to ban its use on the grounds that the right to privacy of citizens should prevail. On the contrary, the European Parliament has approved the creation of a biometric database of the fingerprint or user face of the more than 500 million inhabitants of the EU that will be available to security forces.
In addition, 70% of airlines plan to invest in such biometric solutions by 2021. Some have already tested at airports such as Hamad International in Qatar, Muscat, Oman, or Orlando in the United States. SITA claims to have managed with this technology the shipment of 240 passengers in approximately 10 minutes. Its president in Europe merely states that airlines protect this type of information and passengers "are prepared to share their digital identity if this brings benefits to them.
"
Monitoring an airport with real-time information about flights, passengers or waiting times. I.R.
Avoid loss of suitcases
These increasingly demanding passengers don't just want to avoid waiting. Most people want to know at all times where their luggage is, according to the International Air Transport Association 'iATA's (IATA) global passenger survey. "They want to wait less than three minutes to drop off their bags at the airport and less than 20 to pick them up when they arrive," explains Andrew Price, head of global baggage operations at IATA. Multiple travelers don't check in because they don't want to wait or for fear of being lost
.
When a suitcase is lost, a stressful situation is generated. As Timos Korosis, head of the check-out and baggage systems of the Greek airline Aegean explains: "The passenger is going to go and claim and employees may not know where those bags are and have to attend to 20 travelers at a time." This situation remains common in some airports despite the fact that the loss of luggage has decreased markedly in recent years. If an average of 15 bags were lost in 2008 per 1,000 passengers, six were lost in 2018. Still, it's one of the airline's top bankruming factors because of cost overruns and the bad reputation it brings,
Knowing where each passenger's luggage is at all times can help solve the problem. When baggage travel is monitored, the number of lost bags decreases by 66%, according to Sita's report. Airports around the world use tags equipped with radio frequency identification (RFID) technology. Thus it is possible to know the identification and destination of each suitcase using sensors without scanning each label individually.
There are those who explore with other alternatives. This is the case of Alitheon, a company that is conducting some pilot at unspecified airports and that extracts significant information from objects to create its own digital footprint. He has developed a software capable of identifying each suitcase with artificial intelligence and vision systems without the need for it to carry any labels. Among other parameters, linear dimensions, volume and color are taken into account.
More than half of airports are expected to provide real-time information to passengers about their baggage in 2022. But at the moment, only 14% of airlines are able to carry their bags on more than 75% of their route. Different airlines, including Aegean, incorporate systems to notify users that their bags have been lost as soon as they become aware of it and make claims through their apps. "50% of notified passengers leave the airport and do not wait unnecessarily," Korosis explains. From the moment the luggage is found, they are kept informed by notifications of their location.
Operations control
Managing operations is key to avoid congestion at airports. Some tools try to display infrastructures in 3D to predict what happens in each location and what can happen. For example, digital twins (digital twins) is a technology that allows you to visualize everything that happens at the airport: aircraft movements, the length of the entry and security queue, the condition of the escalators, the traffic patterns at the passenger level and even the levels of passenger satisfaction in the bathrooms.
Likewise, data collected together with artificial intelligence systems can help you decide how to manage the tracks or predict when an aircraft will land. Increasingly with room for manoeuvre, as Sébastien Fabre explains. He oversees SITA's solutions for airlines and airports and gives an example an airport in Singapore: "We predict what time planes will land. We used to know about half an hour. We now use technologies that take into account different factors such as weather and are able to predict it six hours in advance."
"Summary">How to ensure cybersecurity in the air sector
"What do you see?" asks Roee Laufer to an expectant audience as he displays on a large screen an image showing passengers at an airport terminal. He then responds: "Dozens of ways to attack a terminal." With the digitization of all processes in an airport, it also opens the door to possible cyberattacks on both aircraft and airport infrastructure or any type of connected device.
In recent years, "there has been a rapid increase in increasingly sophisticated attacks." Its consequences range from data leaks and financial losses to denial of service. In 2016, Ho Chi Minh And Hanoi airports suffered an attack that forced more than 100 flights to be cancelled. A further year, Kiev, Sydney, Odessa and Perth were also victims of theft of sensitive information or attacks on their systems. In 2018 Hartsfield Airport ran out of wifi for a ransomware in the city of Atlanta. And in the coming years, the trend is expected to continue,
Among the actors of these threats, Laufer highlights the presence of anarchists, radical activists, terrorists, employees with the intention of damaging the company or governments. The technology used to stop these attacks, according to the expert, has to evolve. Cybersecurity is therefore one of the areas where airlines invest the most — in 2018 they spent 9% of their budget for new technologies. They claim to be able to quickly detect intrusions and prevent them. But the main obstacles to cybersecurity protection, according to a SITA report, are the lack of resources, budget and skills
.