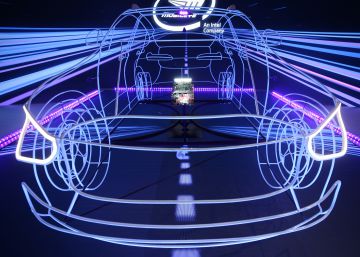 More than 100,000 attendees from 160 countries. Almost 6,000 exhibitors. About 300 conferences. CES figures are staggering. The world's largest and most influential consumer technology fair, which takes place in Las Vegas between January 7 and 10, is a pre-cell of the technological trends that will dominate in the coming months: from autonomous driving to 5G through connected devices in the home or virtual reality applications. If in previous editions the devices presented were more traditional (phones, televisions, vehicles) this fair has shown that any object can be connected.
Smart home
Clothes folding cabinets, washing machines that buy detergent or refrigerators that detect food and warn when it will expire. The CES is the perfect showcase of what could become the totally smart home. Today, China has the highest proportion of home-connected devices, followed by far from the United States and Europe, according to a recent study by GSMA Intelligence.
Lesley Rohrbaugh, director of market research at CTA (the Association of U.S. Tech Companies, which organizes CES), explained on Thursday to a group of journalists what the trends are in different countries. In places like China and South Korea, users choose to introduce connected cameras and thermostats into the home. Meanwhile, in Europe they seek to be greener and more energy efficient,
Autonomous and Connected Vehicles
"In 2019 we saw Bell present a flying taxi. This year they're here again and they're not the only ones," Rohrbaugh says. In fact, other companies such as Hyundai and Uber have unveiled a prototype flying taxi with which they hope to revolutionize public air transport.
In terms of ground vehicles, they are increasingly connected. Proof of this is the prototype presented by Sony full of sensors. Some aim to facilitate autonomous driving and detect both nearby people abroad and each passenger. This year the main objective of manufacturers, according to the CTA, will be to develop technologies that improve connectivity and vehicle safety.
Entertainment
In China, 58% of households have a smart TV, a remarkably high figure compared to 35% in the United States and 29% in Europe, according to the GSMA Intelligence report. In this edition the brands have focused on launching 8K TVs with eye-catching designs: from the screen that rotates to get vertical with which Samsung aims to capture the attention of the youngest to televisions without frames.
There will also be news about gaming. Jim Ryan, President and CEO of Sony Interactive Entertainment, has presented the PlayStation 5 logo at CES and urged attendees to stay tuned for updates in the coming months. The console launch is maintained by the end of the year.
Augmented and virtual reality
Virtual and augmented reality already allows you to enjoy a concert from home, practice a heart operation without being in an operating room and create a work of art without painting on a canvas. Dozens of companies have shown devices and use cases of these immersive techniques. Rohrbaugh has highlighted costumes with dozens of sensors that, together with helmets, are able to take the user into the virtual world
.
Although it remains to be seen when such technologies have just become generalized, the trend remains growth. Between 2018 and 2022, the business generated by this technology is expected to increase by almost 700%. Predictions suggest that the figure will rise from $27 billion to $209 billion, according to Statista.
Digital health and wellness
Sleep Technology has succeeded in this edition. Dozens of devices at the fair are focused on better sleep, longer and deeper. From smart mattresses that change temperature to helmets that, according to their manufacturers, activate the brain's natural ability to sleep well. Smartwatches and fitness trackers also stand out. One in four adults already has one of them and the trend is expected to continue, according to GSMA Intelligence.
If there's one thing some companies have tried to make clear at the fair, it's that a person's overall well-being also goes through sexual well-being. The CTA has allowed sexual devices to be officially exposed for the first time. Among the devices that have caused the most furore, are clitoral suctions, necklaces and vibrator rings and male masturbators,
The promises of 5G
we still have to wait to see the massive 5G rollout. But this technology, which promises to enable speeds up to 100 times faster than 4G, already has its first use cases. The fair has dozens of compatible devices: from gaming devices to vehicles, laptops and smartphones. There are already places like Spain, Japan, China, the United Kingdom, Italy or the United States that have started to deploy this technology,
Some Asian countries are expected to experience remarkable progress in the coming months. For example, in China operators are committed to extending 5G network coverage to highly populated cities in the first two years of service. And a good reception is expected. Nearly 50% of Chinese consumers say they will get a 5G phone as soon as it's available, according to GSMA Intelligence. Another 20% acknowledge that they will also buy a smartphone of this type, but does not know when it will,