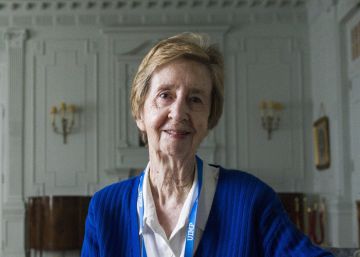 Margarita Salas has been an exceptional scientist, possibly the most important in the history of our country until the beginning of this century and, without a doubt, the best known. Margarita Salas has named many streets of a number of Spanish cities and towns and countless schools and institutes. That she got this in a country like ours, where science has never been given enough importance, and also as a woman, is of almost as great relevance as that of its scientific quality,
Margarita was many things in her eighty years of life. Graduated in biochemistry, postdoctoral student in the laboratory of Severo Ochoa in New York, pioneering molecular biologist and promoter with her husband, Eladio Viñuela, and other scientists with a vision of the creation of the first research center in this discipline that opened up in Spain. In it she was head of a laboratory of the most productive in the country. It trained dozens of Spanish researchers and some of them currently hold important scientific positions. Her lifelong research focused on the study of a modest virus that, as she explained by laughing, "has a difficult name": the phi29 bacteriophage. Margarita's work discovered important mechanisms of action of polymerase, molecule in charge of the replication of the DNA of the virus, and also produced a number of international patents on the use of this polymerase in genetic engineering and biotechnology. To get an idea of the scope of these applications, suffice it to know that its first patent gave to the Higher Council for Scientific Research (CSIC), the institution where Margarita worked all her life, half of the revenue that cSIC received for all patents registered during their term. Margarita Salas gained important recognition for her career and was the first Spanish member of the American Academy of Sciences and also the first scientist to enter the Royal Spanish Academy.
Margarita has also devoted her energy to talking about the situation of women in science. She herself acknowledged that it had taken him a while to become aware of the gender biases that occur in the field of research. Once she was, it was common to hear her explaining how she had suffered machismo in her early scientific career, for example, in the way Alberto Sols, her thesis director, avoiding going directly to her. But he also remembered two men who had been by his side unconditionally. During her postdoctoral stay in Severo Ochoa's lab, Margarita was accompanied by her husband, Eladio Viñuela who was also a researcher. Ochoa separated them into different groups and Margaret always suspected that she did it for her: "She told us that she was doing it to improve our English, but I always suspected it was to prevent me from becoming eladio's wife alone, even as a researcher" , remembered the scientist. And it was precisely Viñuela who had a gesture of generosity with his wife when they returned to Spain. They were both working on the same thing, the bacteriophage phi29, but he decided to step aside and start a new line of research to leave Margarita the prominence in the study of bacteriophage, which she so magnificently took advantage
of.
Margarita was a generous person with everything surrounding science. She always had time to care for journalists and, despite her shyness and discretion, lent herself to be interviewed when asked, the journalist proceeded from an important medium or a small but almost unknown medium. She also always had time to talk about research and the precarious situation of this in Spain, and Severo Ochoa, and the role as a woman in science. He gave lectures, talks, collected awards... And by the age of eighty, he kept going to the lab until the end,
Margarita Salas was an honorary member of the Association of Women Researchers and Technologists (AMIT) since 2002. At AMIT we were, and we are, very proud of her because she has been a benchmark for everyone, for the scientists who have been in the gap for many years, for young women who start their careers and even for girls who start to consider research as an option for their future. We thank you before, but we also want now to show our enormous appreciation for being an inspiration and example to so many of us
.