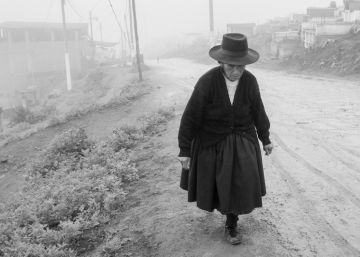 For decades, millions of Peruvians have left their lands to live in the capital, Lima. Lack of opportunity and terrorism have motivated this unprecedented rural exodus. On the outskirts of the capital, hundreds of thousands of people crowd into so-called human settlements, where living conditions and scarce family resources make the risk of disease very high
.
One of these settlements is Casa Huertas, in the sector of Pamplona Alta within the district of San Juan de Miraflores. "This was a desert," says Nicolás Uscata, a neighbor who arrived about 20 years ago to settle on the hill with his wife. Today, there are at least 138 human settlements in Pamplona Alta where more than 40,000 people live.
Peru has undergone an unprecedented migration process from the countryside to the city in recent decades because of the capital-centered industrialization and terrorism of the Shining Path group, which caused multiple displaced people. This influx has made visible the large gap between social classes. According to data from the Institute of Statistics, the population of the capital, Lima, increased from 1.6 million inhabitants in 1961 to 7.6 in 2007. This increase, coupled with the poor planning of the municipalities, has caused hundreds of immigrants to live nunlive in the hills on the outskirts of the Peruvian capital, such as Pamplona Alta.
Settlements on the hills outside the Limean capital arose through the occupation of lands spontaneously, also known as ant occupation. In Pamplona Alta, the first settlers who arrived at the hill improvised their houses with materials such as wood, veneer and plastic. 20 years later, some houses have been transformed with bricks. However, the neighborhoods remain undeveloped properly and the City Council continues without providing basic services. Overpopulation and lack of resources conditions the health of the inhabitants. In the case of Lima, 1.5 million citizens do not have access to drinking water or sewerage and there is a noticeable contrast between the urban and periurban area, according to Oxfam. Settlements do not have water or drainage.
"In the sector of Pamplona Alta they suffer above all dermatological problems, parasitosis, anemia and respiratory problems", explains Milagros Caldas, nurse of the Medical Center Nuestra Señora de la Caridad, in the district of San Juan de Miraflores. The reasons are "pollution from the non-collection of garbage and the fact that there is no access to water and drainage", which causes "the stagnant water to become in the tanks". In fact, the World Health Organization warns that 88% of diarrhoeal diseases are the product of unhealthy water supply and poor sanitation and hygiene, as is the case in this neighbourhood
.
Different diseases change depending on the time of year. In the summer, due to the heat and garbage, parasitic and diarrhoea are more common. Currently, during the winter, being cold and humid, respiratory are the most common. The risk groups, Caldas notes, are children under the age of five and those over 60.
In the Sector of Pamplona Alta, they suffer mainly from dermatological problems, parasitosis, anemia and respiratory problems
MiracleS, Nurse
Eradicating these diseases is very complicated but, as Caldas explains, "having ventilated and hygienic spaces" can help their prevention. A good diet based on fruits and vegetables can be key to making these people sick as WHO has also pointed out, even in major ills such as cancer
.
Kelly Yáñez is 24 years old and a student of nutrition and dietetics. Every Saturday he goes to the communal dining room of the Casa Huertas neighborhood to give his workshops on preventive health. "Growing Together is a program aimed at children from six to 13 years of age and consists of providing them with health and prevention workshops. This year we have addressed acute diarrhoeal diseases and respiratory infections," explains Yáñez.
In today's workshop, Kelly and other volunteers are going to teach children the power that some plants and fruits can have to help prevent disease. "Eucalyptus is a plant that well suits the respiratory system. It will help you breathe better, it will relieve your cough and cause you to expel mucus," Ana Estació Surco, a volunteer at the project and a medical student
, tells the children.
Estació continues to teach the little ones what is the muña, a plant with high content of phosphorus and calcium that is an excellent digestive, helps to cure dislocations, is used as a seasoning and has a slight mint flavor.
In the second block, Junior Santamaría, another volunteer, is going to talk about fruits and vegetables. Start by explaining that pineapple has diuretic and digestive properties. Then he talks to them about lemon, which increases defenses and prevents the flu and cold. It continues that garlic could be a natural antibiotic to prevent arthritis, and that it strengthens the immune system. And he ends up showing them the antioxidant benefits of mandarin. Gradually, the mothers arrive to pick up their children, and the volunteers go to the dining room for the next workshop that takes place in the afternoon.
The messy limeña overpopulation
R. P.
Two historical events in Peru's recent history have caused the population to leave rural areas behind: industrialization and terrorism. In the 1960s the country underwent a process of industrialization focused mainly on the capital. This, coupled with the lack of access to health and education in rural areas, led thousands to leave for the city to be used in mines, quarries, construction or manufacturing, causing the population of the city to become composed of 60% of natives and 40% of immigrants.
A few decades later, the expansion of the Shining Path guerrilla group forced more than a million people to move from their places of origin, as well as razing much of the infrastructure and rural housing. And while this unprecedented rural exodus was taking place, the authorities and politics were focused on other interests. A curious fact is that Peru's last five presidents are either imprisoned or fugitive from justice on corruption charges. One of them, Alan Garcia, committed suicide before he was apprehended,
Three years ago Milagros Ramos began collaborating in the workshops Building Roads for the ladies of the community. Today it arrives loaded with various cooking utensils and ingredients. She's going to talk to you about oatmeal, its properties, and how you can make a different recipe with it. "We chose oatmeal for this workshop because it is a cereal quite consumed among families. It has many properties in terms of cholesterol, sugar or cancer prevention," explains Milagros.
After talking about the goodness of this food Ramos places on the table two bowls, an electric teapot, oats, milk and chocolate. He's going to teach the ladies how to make truffles; a very economical recipe, simple to prepare and very tasty for the little ones of the house. Yáñez details that they develop the workshops in Casa Huertas because the communities there are very vulnerable and want to generate an impact on the neighbors to improve their styles and living conditions.
Families in the District of Pamplona Alta are low-income and their low income does not allow them to buy medicines. In fact, from time to time, institutions such as the Ministry of Health together with some NGOs organize free vaccination campaigns. The last one was organized last August and flu and pneumonia vaccines were handed out. For a population that doesn't always have access to medication, it's important to have good habits that can help them prevent disease.
While a plant cannot cure advanced pneumonia, the biologist and researcher of the Peruvian Amazon Research Institute Ricardo Zárate explains that a good diet "based on nutritious medicinal plants allows to have a good immune system and therefore we will better defend against the agents of respiratory diseases". In addition, Ricardo adds that these people "will be growing plants that capture CO2 and thus help reduce the effects of climate change." Using plants and fruits to maintain good health and prevent disease is a simple and economical way that can help the most vulnerable populations improve their habits and save their lives
.