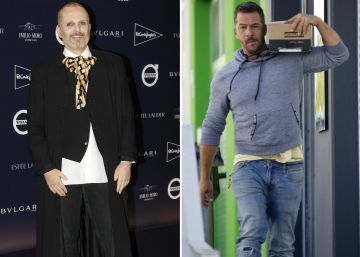 Nothing has changed in the situation that confronts Miguel Bosé and Nacho Palau, a couple that lived in secret for 26 years in front of the public. But everything can vary by just over a month depending on the outcome of the "double act of filiation" trial that will confront them for the situation of their four children, Ivo, Telmo, Diego and Tadeo. Next March the two parties will face each other in the courthouse of Pozuelo de Alarcón (Madrid), in charge of desecining the matter because it is the judicial party that corresponds to the villa that has Bosé in Somosaguas, in Madrid, and which was the stable address of the couple during their relationship.
The exact day and court number are kept secret to avoid the presence of the media, but what matters is that the process that will decide the future of Ivo and Telmo, biological children of Nacho Palau, and Diego and Tadeo, biological children of Miguel Bosé, begins. Four children who have only been among them for seven months and who for eight years were raised as siblings until their parents' separation also caused theirs,
The lawyer of Nacho Palau, José Gabriel Ortolá, insists on clarifying that the main objective of the proceedings is this claim of double filiation. It clarifies that it is not true that Palau is asking for any kind of compensatory pension from Miguel Bosé; he only seeks that the four children continue to maintain their subsidiary relationship, that they have the same rights and that both he and Bosé are legally parents of all of them, with the obligations and rights that this entails.
While Bosé lives in Mexico with Diego and Tadeo, Palau lives in Chelva – the town of Valencia where he spent his summers for children and has his mother's house – with Ivo and Telmo. The two pairs of children were born through rental bellies in the United States, and Bosé has always spoken publicly about her four children. Now they live very different lives because financially their respective legal parents are at very different levels. While Bosé is accountable thanks to his achievements as an international artist, Palau is in a precarious situation, where the search for a job has become his main concern.
Last December this newspaper was able to confirm that Nacho Palau carried out sporadic work in the collection of olive and almond crops from the area in which he lives and that he was finishing a cooking course offered by the unemployment offices. Palau was hired for several years in companies related to his now ex-partner and when his romantic relationship ended he received a discreet amount of compensation after reaching an agreement after filing a lawsuit. Since then, the old sculptor seeks his life to find a stable occupation that also allows him to take care of the children he has in his care. "I have to be cautious. I don't want to hurt anyone or intend to set up a circus on this very serious subject because I haven't done it in my life. I just want to vindicate my situation," he told THE COUNTRY at the end of May in his first public statements following the separation.
Miguel Bosé and his sons, Diego and Tadeo, at a Hollywood premiere last May. Getty
That point has now come, when a trial judge will decide the affiliation of the four children of this ex-partner and the family asasuage must bear the consequences. Little is known from Miguel Bosé because on this subject it has never been pronounced. He already said it in an interview before this situation was known: "I want to have my children alone." Nacho Palau is prepared for the possible consequences of the four children being declared children of both, because this resolution would be followed by the regime of guard, visits and food that the two parents should respect. His lawyer reiterates that it is a priority for his client that they legally recognize that they had a common life project that included the birth of their children by rental bellies and that the four children are children of both and have the same rights
.
that moment comes, or not, some things have been relocated in this broken family. Bosé and Palau reached an agreement this summer for the children to spend alternate weeks with each other during the holidays. The grandmother, Lucía Bosé, visited Nacho Palau and her children in Chelva before last Christmas, and Paola Dominguín, the singer's sister, explained naturally on television that Palau and her children spent Reyes' day at home and that they communicated by videoconference with Bosé, who was at his home in Mexico. "Children are children, and with Nacho I have a good relationship, it is many years and there is no problem. We talk and we'll see each other when we feel like it or when we have something to tell each other," said Paola Dominguín
Singer Miguel Bosé and his children in an image posted on Instagram in 2017 responding to blackmail.
she himself confirmed that she saw her brother happier than long ago, and did not avoid linking her previous malaise to her separation from Palau: I was. When you split up there's a process you might have dragged on for years but once you digest it, you feel better," he explained. "They are two parents and two children from each, the couple is separated and the children are separated. Miguel is a stepfather and losing two children... It was something that surprised those of you who didn't know," the former model said, "but to me that doesn't change the values I have of each of them." The trajectory of the singer, from whom his sister said he is always involved in many things, will be the subject of a fictional series in which Boris Izaguirre and Angels González-Sinde work. In addition, the same artist is preparing an autobiographical book that is likely to be published earlier.
To an agreement that included the four children was not contemplated at any time by Miguel Bosé, but reaching a private solution was also not easy. Any pact, other than the legal recognition of the paternity of both parents, may be revoked in the future and cannot be seen as having the figure of parental authority which implies that decisions on minors must be taken by common accord. Even the adoption formula, if it had been speculated with it, was possible because Spanish law prevents adoptions when the age difference between the adoptee and the adopter is greater than 45 years (situation in which Miguel Bosé is located). "The problem is to find a technical fit in the Spanish legal system for this novel situation," reflects the lawyer specializing in Family Law who represents Palau. "There are new realities, society advances, there is no precedent for such a case in Spain or Europe, but new developments in law come from the effort to understand and seek a fit to the new legal challenges," defends Ortolá.
Pending a decision that may end in the first instance, if the judgment is positive for Palau and Bosé accepts it, the four brothers have met on rare occasions in person, and regularly by telematics. But in the case of such a complex matter, it is foreseeable that all possible judicial bodies can be exhausted, a legal route that can be extended for four or five years while children grow up and their affective distance increases.