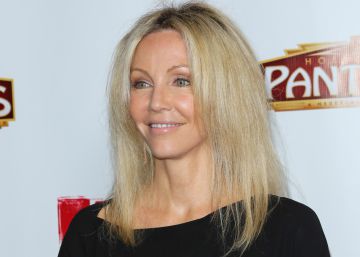 Heather Locklear, one of the protagonists of the Melrose Placeseries and Dinastía, famous in the eighties and nineties, must enter a mental health center where he will stay at least 30 days. The decision comes after several violent incidents that occur after using substances that have not come to fruition and cause her to be arrested until twice due to her aggressive attitude
.
One of these incidents occurred in February 2018, when he attacked his partner and then assaulted one of the policemen who came to resolve the conflict. The second arrest came a few months later, in June, when it again launched against one of the agents who came to take charge of the situation of the actress after being warned of the riots that Locklear was causing in an obvious state of intoxication. The actress didn't stop there and also attacked one of the members of the emergency medical team who came to care for her at the time, according to the TMZ.
The order to be admitted to a psychiatric facility comes after a trial in which the actress has acknowledged her responsibility for eight misdemeanors and in which she has evaded, at least for the time being, a sentence of four months in prison in exchange for treatment 30 days in a mental health clinic. A measure that must be complied with and otherwise taken directly to prison. The judgment handed down by the judge in charge of the case also states that Heather Locklear will be on unsupervised probation for three years and is prohibited from owning guns, drinking alcohol and any medicationthat that has not been guided by a doctor
.
The actress, 57, was already admitted to a hospital in 2012 due to a collapse caused by the mixture of alcohol and pills and in 2017 she also entered a rehabilitation center to try to put aside her addictions, a situation she has been dragging for more than 10 years when she divorced her husband. Bon Jovi guitarist Richie Sambora. Since then she has started to have problems of anxiety, depression and addiction that have led her to erratic behavior that has made a dent in her physical appearance and also in her career, which seems stagnant.
In 2008 his own psychiatrist sounded the alarm because he feared Locklear would commit suicide. In June of the same year, the interpreter entered a facility to treat her depression. In September of that year she suffered a traffic accident while under the influence of medicines and was arrested for a few hours. In December 2011 she was involved in an episode of domestic violence with her partner at the time, actor Jack Wagner, although in the end neither of them filed charges. And since then the dripping of hospital admissions, assaults, fights and out-of-control situations has been relentless. Now the authorities are forcing her to make a new attempt to straighten her life and free herself from her addictions,